Canadian charity to the aid of another 13 Guyanese children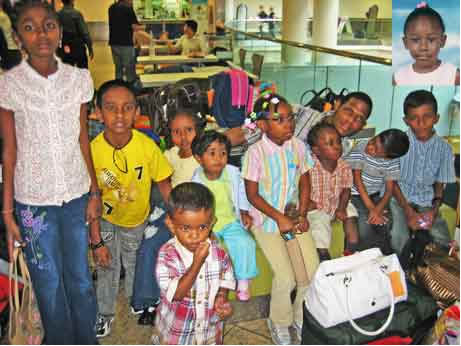 Eleven of the kids who were treated in India. Not in picture are Shoma Lalgie and Sukhranie Victor.
Continuing with its mission to assist Guyanese children who need medical treatment not available at home, the Three Rivers Kids Foundation of Ontario took another 13 kid for life saving medical treatment in India for various medical conditions. Eleven children had open heart surgeries, one, a kidney transplant and one received treatment for congenital dislocation of the left hip.
The 11 cardiac patients suffered from various congenital abnormalities of the heart such as Tetraolgy of Fallot, Ventricular Septal Defect, Atrial Septal Defects and incompetent heart valves. There were also two patients who suffered from Rheumatic heart disease and required valve replacements. Some of the children had developed Pulmonary Artery Hypertension as a result of not being able to get the required treatment soon after birth. One child had severe Pulmonary Artery Hypertension, which made post operative recovery period longer. She had to remain in Intensive Care Unit for 8 days post operatively. And despite all the complications, the patients made incredible recovery.
All of the cardiac patients were diagnosed in January, 2008 during a free cardiac screening clinic which was conducted in Guyana by Dr. Viresh Mahajan, Paediatric Cardiologist from India. They have all been treated and have returned home to their families to begin their new lives. The Cardiac team that treated the patients included Dr. Viresh Mahajan, Dr. Anil Bhan, Dr Rajesh Sharma. Dr. Ramesh Kumar (Nephrologist) and the medical staff at Batra Hospital.
In two and a half years since their existence, Three Rivers Kids Foundation has successfully helped 46 patients, 42 from Guyana and four from India. The President of Three Rivers Kids Foundation, Jeanette Singh who is a registered nurse travels with the children to India and monitor their medical care. "I am in the operating room for long hours and many days to see our children's surgeries. All the mothers accompanying their children want me to take photographs of their children's hearts. This is where I feel comfortable and enjoy being with the patients before they get their general anesthesia and also be there when they regain consciousness."
For the first time, Three Rivers Kids Foundation took an adult patient from Guyana to India for kidney transplant. Shoma Laljie, age 22 years, received a kidney from her father. Both Shoma and her father have recovered well. She has made a marvelous recovery and is doing extremely well. The cost of the kidney transplant, including all preoperative testing and hospital stay, accommodation and food is US$13,500. Medications will cost about US$350 per month which the patient will have to take for life.
The names of the children who benefited from this mission are Makhi Winfield 13months from Linden, Marissa Roopchand 18months from Cornedia Ida, Virendra Dookie 2 years from Tuschen, Jasmine Fredericks 5 years from Sophia, Breanna Hunte 5 years from Georgetown, Kaaran Orhandunte 4 years from Skeldon, Shiv Sooklall 6 years from Leguan, Bhanumatie Persaud, 10 years from Canal #1, Farzeina Ali 5 years from New Amsterdam, Marlon Reid 23 years from New Amsterdam, Shoma Laljie 22 years from Vreed-en-hoop, Beesham Singh 5 years Wekeanaam, and Suhkranie Victor. from Goed Fortune.
The total cost of the mission including the cost for all 13 surgeries, airfares for the patients and their companions, accommodation, food, medications that the children will have to take for 6 months is about US$150,000.